Hours and Map
To get here you must take a ferry or hire a boat, leaving your car on Mt. Desert.
On your visit to Cranberry House, step into the Preble-Marr Historical museum for an insight into island life, enjoy a tasty lunch at Hitty's Café (with free WiFi) (Cezar's new link here), admire the gardens, and explore Sammy Sanford's cabin (http://www.gcihs.org/1/cranberry-house/sanford-cabin.html) and the public trail (new link?) to Whistler's Cove. Especially lucky visitors may arrive during one of the many entertaining and educational events (Calendar link here) held upstairs in the Arts Center.
Transportation
After arriving by ferry at the Town Dock, stroll the two-mile long Cranberry Road or hop on the FREE Cranberry Explorer shuttle.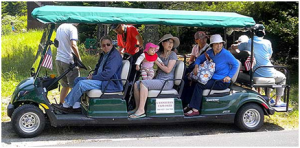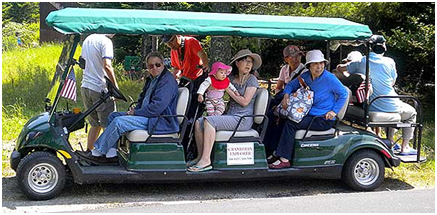 The GCIHS 7-passenger golf cart travels round-trip on Cranberry Road every half hour from the Town Dock to the end of the island and back, 10 a.m. to 4 p.m. June 15 through September 15 (dates and times??). It's a 15 minute ride each way.
Scheduled stops:
Town Dock, leaves at :00 and :30
Cranberry House (Museum, Hitty's Café, Arts Center, and Whistler Cove Trail)
Church and Ladies Aid
School and Library
Whale's Rib Gift Shop (is this operating this year?)
Transfer Station and Gas Pump
Cranberry Shores Public Trail
End of Cranberry Road
Along the way the driver will narrate the sights, answer questions, and pick up or drop off passengers anywhere on Cranberry Road. The service is free but donations are appreciated.
Call Cranberry House for more information: (207) 244-7800.
Museum  (Anne's text 6/14/17)
The GCIHS Preble-Marr Historical Museum is on the first floor of Cranberry House about ¼ mile down the main road from the Great Cranberry Island town dock.
Admission is FREE! The museum is open every day 10:00-4:00 from Memorial to Columbus Day. Come explore our artifact displays and exhibits about life on Great Cranberry in the 19th, 20th, and 21st centuries. New exhibitions are developed every year
Year
Themes
Curators
2017
Charting Their Course – Clues from the Collection From 1874 to 1884 islanders Meltiah and Carrie Richardson crisscrossed the Atlantic in their three-mast schooner. Their nautical charts and journal tell their story.
Anne Grulich; layout by Willoughby Hastings
2016
From Six Schools for Five Islands to One for Two: Cranberry Isles Schools 1830-2016.  The two Cranberry Isles schoolhouses were renovated in 2016; the student body now alternates buildings every two years.
Anne Grulich
2015
The Agricultural Heritage of the Cranberry Isles: 19 Farms and Counting
Jessi Duma, Island Institute Fellow; Design by Jill Piekut
180-year-old Concealed Shoes and Cape Houses on GCI (Mentioned in Down East Magazine's April 2015 edition. http://downeast.com/the-secret-lives-of-houses/)
Anne Grulich
Stanley Cemetery Preservation Project (also online at Stanley Cemetery Preservation)
Anne Grulich
Images on Glass, Iron, and Paper: 19th Century Photographs from the GCIHS collection
Anne Grulich
2014
180-year-old Shoes and an 1840s Cape-style Houses on GCI
Anne Grulich,
Images on Glass, Iron, and Paper
Anne Grulich,
2013
Great Cranberry Island's Preble House on the Maine Memory Network

http://www.mainememory.net/sitebuilder/site/2423/page/3901/display?use_mmn=1&popup=1

Anne Grulich
Three Heroines of Great Cranberry Island

The Maine Sea Coast Mission

Wini Smart
2012
Baker Island
Wini Smart
2011
The Prebles & Sammy Sanford

An Original Church Pew

Wini Smart
2010
History of the Cranberry Islands
Wini Smart