While researching Civil War General Andrew Barclay Spurling, who was born on GCI, I came across another Civil War veteran, Samuel B. F. Johnson, listed as Negro, who was also born in the Town of Cranberry Isles. His story might provide an interesting contrast to General Spurling. Johnson's history has been very difficult to trace. No record of his birth and nothing relating to a Johnson family on the island during this time period have surfaced yet; there are Johnsons in the 1880s, but schooners came and went around the globe from this island. More than one source has Johnson being born here ca. 1839, enlisting in the Navy in New York 1863. In 1864, Johnson is in the Naval Enlistment Rendezvous at Boston having served a year with a three-year term (Vol. 40, p. 879, NARA microfilm M953, roll 29; FHL microfilm 2,383,578. Seen atfamilysearch.org/ark:61903/1:1:XG3Z-TTG).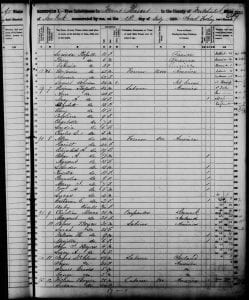 In reading a most excellent book, Maine's Visible Black History by Price and Talbot, I discovered that a black child, Samuel B.F. Johnson was born on "Cranberry Island, Maine" (must be circa 1839). He only comes to light because he's a Civil War veteran who enlists in the Navy in New York at age 24 in 1863. His name and complexion also appear on www.nps.gov/civilwar/search-sailors-detail.htm?sailorID=JOH0222.  His name appears on gcihs.org/1/history.html under the header "Cranberry Isles in the Rebellion" but no complexion listed there.
I've searched census records and midwife records but find nothing about him. There are white Johnsons out on GCI but it's much later -1880s. There is Thomas Frazer's  free black family living on Schoodic ca. 1790-1820. There is another "Cranberry Island" further south, but they have no record of Mr. Johnson either.
Has anyone done any research into black history on the islands? Seems there's a lot that could be done. Several Cranberry Isles schooners were involved in trade with the West Indies and the southern states bringing specialty lumber and fish and returning with cargo. Also, there is a schooner Water Witch that was captained by a GC Islander. On P. 360 of Visible Black History there's an article about a brig Water Witch that captured the slaveship Beaulah (possibly hailing from Portland) on the high seas. I don't know yet if this is our Water Witch.  (Preliminary research by GCIHS Archivist 2016 – archivist@gcihs.org)